The History of MDCC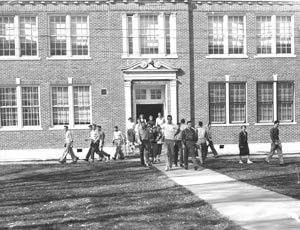 Sunflower Junior College was founded in connection with the Sunflower Agricultural High School early in 1926 and the first freshman class was enrolled in September, 1926. The college was fully accredited as a two-year junior college in April, 1928, by the Accrediting Commission of the Senior Colleges of Mississippi. It was admitted to full membership in the Southern Association of Colleges and Schools in December, 1930, and is now a member of the American Association of Community and Junior Colleges. The name of the school was officially changed from Sunflower Junior College to Mississippi Delta Junior College at the beginning of the 1960-61 session. On July 1, 1989, the name was once again changed to Mississippi Delta Community College.
Until July 1, 1995, Mississippi Delta Community College was supported by Sunflower, Leflore, Humphreys, Washington, Issaquena, Sharkey, Bolivar, and Coahoma Counties. Coahoma County was excluded from the MDCC District during the 1995 session of the Mississippi Legislature. The college's students come not only from these counties, but from many areas, including other states and foreign countries. During the history of the institution, there have been twelve superintendents and presidents as follows: B. A. Brady (1911-1913), J. H. Sargent (1913-1918), J. S. Vandiver (1918-1935), P. M. West (1935-1944), W. B. Horton (1944-1966), J. T. Hall (1966-1989), David L. Powe (1989-1992), Bobby Garvin (1992-2001), Larry G. Bailey (2001-2012), Lynda A. Steele (Interim, 2012-2013), Larry J. Nabors (2013 - 2019), and Tyrone Jackson (2019 - present).
From its beginning in 1926, the college has achieved distinction among the junior/community colleges of the state. Its alumni are scattered throughout the United States in positions of trust and leadership.