QEP Questions & Answers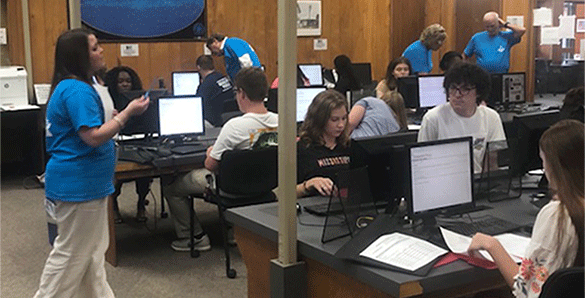 Question: What are we trying to accomplish with our QEP?
Answer: We are trying to accomplish a complete revision of our advising system which will create a new culture of advising for both students and advisors by changing what is expected of both.
Question: How will the QEP impact advisors?
Answer: Advisors will assist students in making career and academic decisions. Advisors will have more time to advise, since they will be assigned students. A better use of advisors' time will be accomplished through the use of scheduled advising sessions.
Question: How will the QEP impact students?
Answer: All first-time, incoming academic freshmen will be assigned advisors. Students with assigned advisors will be able to build relationships with their advisors due to consistent one-on-one contact. Students will have degree maps to give direction and guide them toward graduation.
Question: How do we start?
Answer: Summer 2017 will begin with a pilot phase, involving at least 10-12 advisors. This summer and fall will offer focused professional development as we introduce a new culture of advising. The number of advisors will increase with each year of implementation.
Question: Does our QEP have a target audience?
Answer: Yes, our target audience will be first-time academic freshmen. A large majority of our entering students enroll as undeclared or general education majors. Research indicates that students who declare their majors early persist and graduate at faster rates compared to undeclared majors. Career assessments and involvement from Academic, Career-Technical, and Health Science representatives will provide a means for students to make decisions concerning their career and personal goals.
Question: Will students change advisors if they change their majors?
Answer: The answer depends on the circumstances. If students move from an undeclared or a general education degree major to a Career-Technical or Health Science program, then students will change advisors and will be paired with faculty in their specialized fields of study. However, students who change majors within the academic curriculum will remain with their original advisors. In studying the academic programs of study, the committee found that the majority of courses are general education core classes with few specialized courses in the academic divisions. As a result, academic advisors will communicate with other advisors on questions that arise concerning academic programs of study. After year one of the QEP, the committee will evaluate this particular component and make changes and adjustments as necessary.
Question: How will MDCC evaluate the QEP?
Answer: In order to evaluate the effectiveness of the QEP in achieving the goals it has set forth, both qualitative and quantitative data will be used. This will be accomplished through the use of a variety of tools. These tools include campus-wide questionnaires/surveys, targeted focus groups/round table discussions, and nationally administered surveys (CCSSE). In addition, student learning outcomes with benchmarks have been developed to obtain our QEP goals. Feedback from students, faculty, and staff will be critical to the success and revision of the QEP throughout the 5 years.
Question: At the end of the five-year period, how will MDCC know if the QEP has been successful?
Answer: Although the overall purpose of the QEP is to improve MDCC's current advising system, the institution hopes that the implementation of the new advising system will improve students' retention rates, students' progress toward completion, and students' overall completion rates.