QEP Topic Selection Overview
In November 2014, President Dr. Larry Nabors appointed a QEP Topic Selection Committee with the purpose of selecting a topic for MDCC's QEP. This process began December 2014 with the first committee meeting and continued with additional meetings through September 2015. During these committee meetings, the QEP Topic Selection Committee reviewed institutional data and QEP guidelines, identified institutional constituencies, and developed an action plan to solicit broad-based input and a process by which the QEP topic would be selected.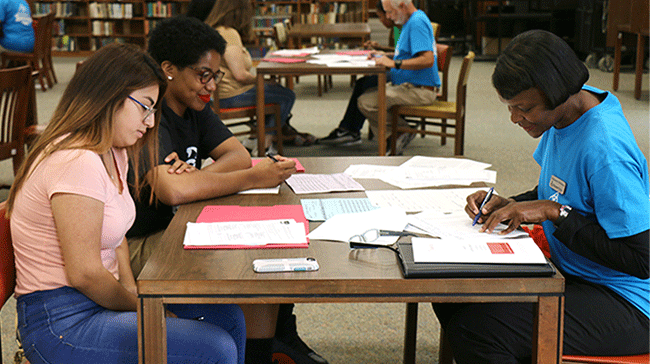 Gathering Broad-Based Input for Possible QEP Topics
From January 2015 to May 2015, the QEP Topic Selection Committee met and gathered QEP feedback from MDCC's constituencies. Additionally, the Committee administered online and paper surveys for input/suggestions on ways to enhance student learning at MDCC. Seven hundred and fifty-five (755) students, prospective students, faculty, staff, administrators, alumni, board members, and business, industry, and community representatives submitted topic suggestions for consideration. The QEP Topic Selection Committee then took topic suggestions and narrowed the results to 5 common themes.
Analyzing Institutional Assessment Data to Refine QEP Topics
In October 2015, these 5 themes were presented to President Dr. Larry Nabors and his leadership team (Administrative Council). After analyzing institutional assessment data, the Administrative Council narrowed the 5 themes into 3 viable topics that would enable MDCC to accomplish its mission and goals. These 3 topics were then refined according to SACSCOC guidelines and the feasibility for enhancing student learning and/or the learning environment at MDCC.

Quality Enhancement Plan (QEP) Topic Descriptions
Topic 1: Advising and Counseling to Improve Student Success
MDCC's Advising and Counseling Quality Enhancement Plan will seek to improve the interactions that advisors and counselors have with students in order to teach students to take responsibility for setting and achieving their academic and career goals. This plan will be based on the premise that students who are actively involved in their education will be more successful throughout their educational careers and beyond. An online advising management system and an online early alert system for students who may be at risk of dropping out of college will be two new tools advisors and counselors will use to assist students in achieving their academic and career goals.
Topic 2: Student Engagement to Improve Student Involvement
MDCC's Student Engagement Quality Enhancement Plan will seek to engage students in active learning inside and outside the classroom. The faculty will strive to improve instruction in their courses by researching and implementing instructional methods which are more engaging for active student learning. This plan is based on the premise that student engagement – involvement, integration, and quality of effort in the classroom and in collegiate experiences outside the classroom – is significantly related to student success and academic attainment.
Topic 3: Tutoring and Learning Communities to Improve Student Learning
MDCC's Tutoring and Learning Communities Quality Enhancement Plan will seek to improve student learning by implementing new initiatives that support structured tutoring. One goal of this plan will be to create and implement student/peer-based learning communities outside of the classroom to supplement faculty-based tutoring services. Faculty will also participate in the new initiatives by attending professional development on cooperative learning and learning communities, implementing best practices in the classroom, and being involved in learning communities.

The Winning QEP Topic - Topic 1
From November 2015 to December 2015, the faculty and staff voted for MDCC's final QEP topic through an online ballot. There were 148 respondents and the results of the vote were as follows:
99 (66.89%) selected Topic 1- Advising and Counseling to Improve Student Success
29 (19.59%) selected Topic 2- Student Engagement to Improve Student Involvement
20 (13.51%) selected Topic 3- Tutoring and Learning Communities to Improve Student Learning

Request for QEP Proposals
Beginning in January 2016, the QEP Chairperson and Topic Selection Committee invited the MDCC community to submit QEP proposals for the selected topic. Guidelines for the proposals were as follows:
Each proposal should be 10-15 pages and include the following components:
Cover Page Form
Brief Overview of Plan
MDCC Data to Demonstrate the Need for the Plan
Relationship of Plan to MDCC's Mission and Goals
Literature Review and Best Practices
Goals/Objectives of the Plan
Plan of Action with Timeline
Assessment Plan
References
Proposals were submitted electronically to qualityenhancementplan@msdelta.edu in a single Microsoft Word document by Monday, February 15, 2016, at 11:59 p.m. Hard copies, submissions with multiple attachments, and late submissions weren't accepted. An evaluation committee was formed and met to review all submitted entries and selected the winning proposal. The primary author of the winning proposal received $500.00.

Connection to MDCC's Mission Statement
The process used to identify advising as the QEP topic involved broad-based input and involvement from all MDCC constituents. In addition, the process used for topic selection used a variety of assessment data. Early in the process, the MDCC SACSCOC Steering Committee acknowledged the importance of MDCC's mission statement and supporting the strategic plan when selecting academic advising as our QEP topic. MDCC's mission statement is as follows:
Mississippi Delta Community College (MDCC) provides quality education through academic, career, technical, health science, and workforce training programs. MDCC is dedicated to improving the community through intellectual, social, cultural, and recreational opportunities.
In order to sustain the goals of the college mission, the initial step of MDCC's SACSCOC Steering Committee, as well as the QEP Topic Selection Committee, was to research and discover concerns that might prohibit student success at Mississippi Delta Community College and to identify possible strategies to overcome these concerns in order to see improvements in student learning. An extensive review of institutional data showed room for improvement in student retention and graduation rates which could be addressed through a revised advising system.